SILENCE night!
Par Damien le mardi 23 décembre 2008, 17:33 - A portée de clic - Lien permanent
23 décembre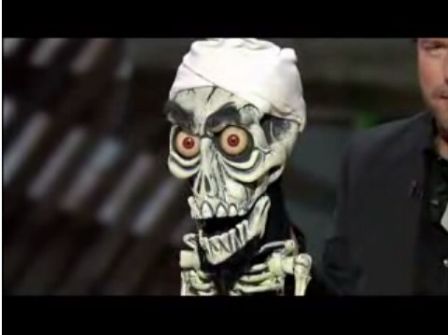 Vous connaissez sans doute un sketch devenu culte du ventriloque Jeff Dunham, dans son show Spark of Insanity, où il donnait vie à un squelette enturbanné avec une barbichette, d'épais sourcils et de gros yeux jaunes, répondant au petit nom d'Achmed, the dead terrorist. Lequel avait un gimmick quand il s'adressait au public : SILENCE! i'll kill you! Le spectacle mettait en action d'autres marionnettes hautes en couleur, notamment Walter (un américain moyen chauve et particulièrement cynique) ou encore José Jalapeño on a Stick et Peanut (animées toutes les deux en même temps et montrant les talents de ventriloque de Jeff Dunham).
Le sketch, particulièrement caustique, évoque en une dizaine de minutes la vie d'une bombe humaine particulièrement pitoyable ( pour expliquer comment il est mort).
Tout cela pour vous montrer un autre sketch mettant en scène Achmed (bon il date de l'an dernier), à l'occasion d'une émission spéciale fêtes, où Achmed revisite à sa manière les chants de Noël. Regardez, c'est truculent
Et bonnes fêtes de fin d'années à toutes et à tous!