L'aura d'Apple aujourd'hui tient vraiment de la secte
Par Damien le vendredi 16 janvier 2009, 22:22 - Buzz buzz buzz - Lien permanent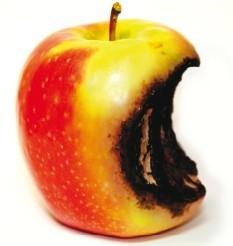 Coup de tonnerre dans le monde de la technologie grand public, Steve Jobs, actuel PDG fondateur d'Apple a pris six mois de congé maladie pour soigner un déséquilibre hormonal, source de pas mal de spéculations il y a peu. On a déjà vu des PDG devoir prendre un congé temporaires pour raisons de santé ça n'est pas si "grave que cela" (dans le sens où le monde continue malgré tout de tourner), mais dans le petit monde de la technologie, l'histoire prend une tournure tout à fait différente, puisqu'ici, il s'agit d'un personnage charismatique, qui incarne à fond l'entreprise qu'il a créé et qu'il dirige encore.
Chronique d'un retour gagnant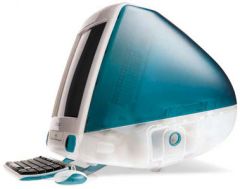 De retour aux commandes depuis 1997 il incarne le renouveau d'Apple, en introduisant le iMac, véritable OINI (objet informatique non identifié), là où le monde du PC ne connaissait que la laideur de tours et d'écran invariablement gris / blanc crème. Point de départ d'une nouvelle période de croissance de plus en plus rapide au fur et à mesure que des produits plus ou moins innovants étaient introduits (Apple a été un des premiers constructeurs à abandonner le lecteur de disquette notamment). Apple qui dans le milieu des années 1990 a souffert énormément de son nemesis de toujours, Microsoft, a fait prédire à certains que la firme à la pomme était bonne pour la poubelle. Mais non, les réussites qu'ont été les générations d'iMac, l'introduction de l'iPod et puis tout récemment de l'iPhone ont été autant de succès commerciaux. Mais plus encore, cela a contribué à ériger une véritable communauté d'utilisateurs, confinant à une manière de penser, voire de vivre. Souvent caricaturée à l'excès comme des bobos élitistes, prêts à acheter une fortune ce qui peut apporter la même fonctionnalité pour bien moins cher, prêts à défendre bec et ongles la réputation de leur marque chérie, en un mot, des
fanboys
. (
25 Signs That You Might Be An Apple Fanboy
). J'avais moi même déversé un peu de
fiel sur l'iPhone
(
et là aussi
) source d'un courant de hype fort désagréable, mais confirmé : avec l'appstore les gens sont prêts à acheter tout et n'importe quoi sans réfléchir, parce que ça fait classe d'exhiber la brique devant les copains. D'ailleurs, un épisode des simpsons leur a été dédié
Donc pour en revenir à notre problème
Avec un Steve Jobs en rade pour six mois, certains sont prêts à le voir déjà un pied dans la tombe, et rien que cette nouvelle a fait perdre près de 10% au titre Apple computer. Frénésie et panique complètement surréaliste, à tel point que des actionnaires procéduriers poursuivent Apple pour ne pas avoir communiqué à temps sur l'état de santé de leur dirigeant. Ah oui quand même, et ça ne vous rappelle rien? La convention introduite après le décès de Georges Pompidou obligeant le président de la république à communiquer sur son état de santé. Ca remue aussi chez les mac users, qui font comme toute communauté, analysent, spéculent, discutent sur l'avenir d'Apple. Le problème vient en fait de la véritable érection en gourou visionnaire (ce qu'il est sans nul doute à certains égards) d'un simple mortel, et certains ne peuvent envisager l'avenir d'Apple sans Jobs. On peut dire tout ce qu'on veut, ça sent parfois la secte cette histoire. Dès qu'il s'agit d'Apple, tout est monté en épingle jusqu'à un paroxysme moutonnisant. Sachant qu'Apple est une entreprise rodée, et que tout ne passe pas par Steve jobs en personne (fini le temps où il assemblait ses Apple 1 dans son garage avec Steve Wozniac), Apple peut survivre, survit et survivra à son fondateur. Quand aux vautours, Cassandre, et autres oiseaux de mauvaise augure, qu'ils aillent voir ailleurs! Relax les fanboys, Steve Jobs reviendra, mais autant vous y habituer tout de suite à un Apple sans son génial dirigeant (du côté des PC, on s'y est habitué depuis longtemps au retrait de Bill Gates, mais pas pour les mêmes raisons, quand aux linuxiens, eh bien l'éparpillement de leur travaux, en réseau étoilé fait que tout peut survivre à n'importe qui).