Mastodon - Crack The Skye
Par Damien le dimanche 28 juin 2009, 18:32 - A écouter - Lien permanent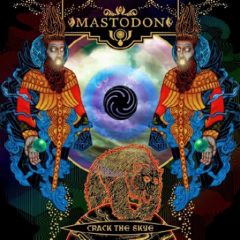 Autant le dire d'entrée de jeu, ce troisième album de Mastodon (après Leviathan et Blood Mountain) est une petite merveille musicale. Le groupe pourtant relativement jeune démontre une nouvelle fois sa maîtrise et sa qualité artistique. Crack The Skye serait en quelque sorte un concept-album, comme ceux que j'ai chroniqué récemment (voir Eleonore de The Black Noodle Project, Ziltoid The Omniscient de Devin Townsend ou bien toute la série des Ayreon, d'Arjen Lucassen, lequel a poussé le principe jusqu'au bout). Il s'agit de la quête d'un enfant capable de faire des voyages astraux, qui, lors d'une session s'est retrouvé coupé de son enveloppe charnelle. Son objectif est donc de pouvoir réintégrer son corps. Tout un programme qui semble sur le papier particulièrement lourd à digérer et difficile à raconter. Et pourtant dès les premières mesures, le décollage est immédiat et le voyage vous retiendra pendant les cinquante minutes que durent l'album. D'ailleurs, il serait même prévu qu'une sorte de film suivant cette histoire soit tourné, le groupe ayant à priori un scénario de science fiction et ne cherchant qu'un producteur.
Mastodon délivre un métal progressif particulièrement bien ciselé, aux compositions complexes et précises, lesquelles captivent littéralement l'oreille. Crack The Skye est le type d'album qui ne pourrait pas s'écouter en lecture aléatoire ou bien piste par piste, mais bel et bien d'un bout à l'autre. C'est une des clés pour apprécier l'album à sa juste valeur et sentir la progression dans les compositions. De Oblivion à The Czar, celle-ci est particulièrement sensible.
Puisqu'on parle de The Czar, celle-ci est le point central de l'album (et au vu du titre, vous aurez deviné que c'est par elle qu'apparaît dans le concept Raspoutine). Mais comme il s'agit de Mastodon, il n'y a pas une masterpiece, mais deux. The Last Baron est le morceau qui parachève l'ensemble de l'album. Du haut de son petit quart d'heure progressif, il repousse les limites de The Czar, laquelle durait déjà 10 bonnes minutes. Sur cette dernière piste, on a l'occasion d'entendre en gest .. le chanteur de Neurosis (un autre excellent groupe de métal progressif) venir pousser quelques cris rauques, là où le chant de .. est plus lyrique (notamment le « Don't stay, run away » sur The Czar).
Musicalement, le son de Mastodon a toujours été très technique et d'une qualité de production sans trop d'équivalents. Sur Crack The Skye, c'est bien entendu un sans faute. En dépit d'une construction des morceaux particulièrement complexe, le groupe de cède pas à la surenchère démonstrative ou les solos de guitare relevant du « branlage de manche » comme certains groupes seraient capables de le faire (insérez ici quelques groupes de power metal).
Crack The Skye est donc le type d'album que tout amateur de métal progressif se doit d'avoir dans sa bibliothèque et dont l'intérêt restera durable au fil du temps. Pour qui découvre Mastodon, Crack The Skye en dépit de son concept qui pourrait passer pour capillotracté ou de sa qualité technique difficile à égaler est la meilleure porte d'entrée pour découvrir le groupe.